I think that many of us have a special relationship and fascination with clothes.  I can go through my closet and tell you where I purchased a specific dress or what occasion (or which mall, at least) I wore a pair of heels to.  We love what we wear for many reasons.  Sometimes we love what we love because of what it represents.  There a dresses I own that will never get rid of because I was finally able to wear them after losing weight.  They represent an accomplishment.  I still own the little black dress that I bought when I started to build my wardrobe (for real this time) after decades of purging.
Lingerie was my gateway drug, if you will, into a bigger world.  I would see mannequins in department stores modeling the most beautiful underwear I had ever seen.  Seeing a delicate bra with matching panties and stockings mesmerized me.  Lingerie wasn't necessarily practical, it existed for the sheer purpose of being beautiful.
I own a lot of lingerie.  It's a fun little secret to have on in male mode.  It can be as elaborate as a corset with stockings or as simple as a lacy bodysuit.  There's always something to suit my mood.  As my lingerie wardrobe expanded, I started to realize that lingerie was more practical than I thought.
I have certain bras that I wear depending on my outfit.  A yellow dress and a black bra is not a good idea.  If the neckline of my dress is cut a certain way perhaps I need to wear a strapless bra.  If my dress is a little more form-fitting, then I skip the textured bra if I want a smoother look.  Some bras are better suited for my breast forms than others.
Most of my bras are of the push-up type (I need all the help I can get) but there are times I want to stay a little more connected to my femme side when I am in male mode.  Sometimes I wear a matching set and I want to be as discreet as possible.  After wearing HommeMystere's bras and panties all week, I am happy to say that I have found lingerie that accomplishes just that.
HommeMytstere generously sent over a beautiful selection of their bras, panties, and lingerie.  I'll be breaking up my review into three shorter ones and I will follow up with panties and lingerie next week.  This review is all about bras.  🙂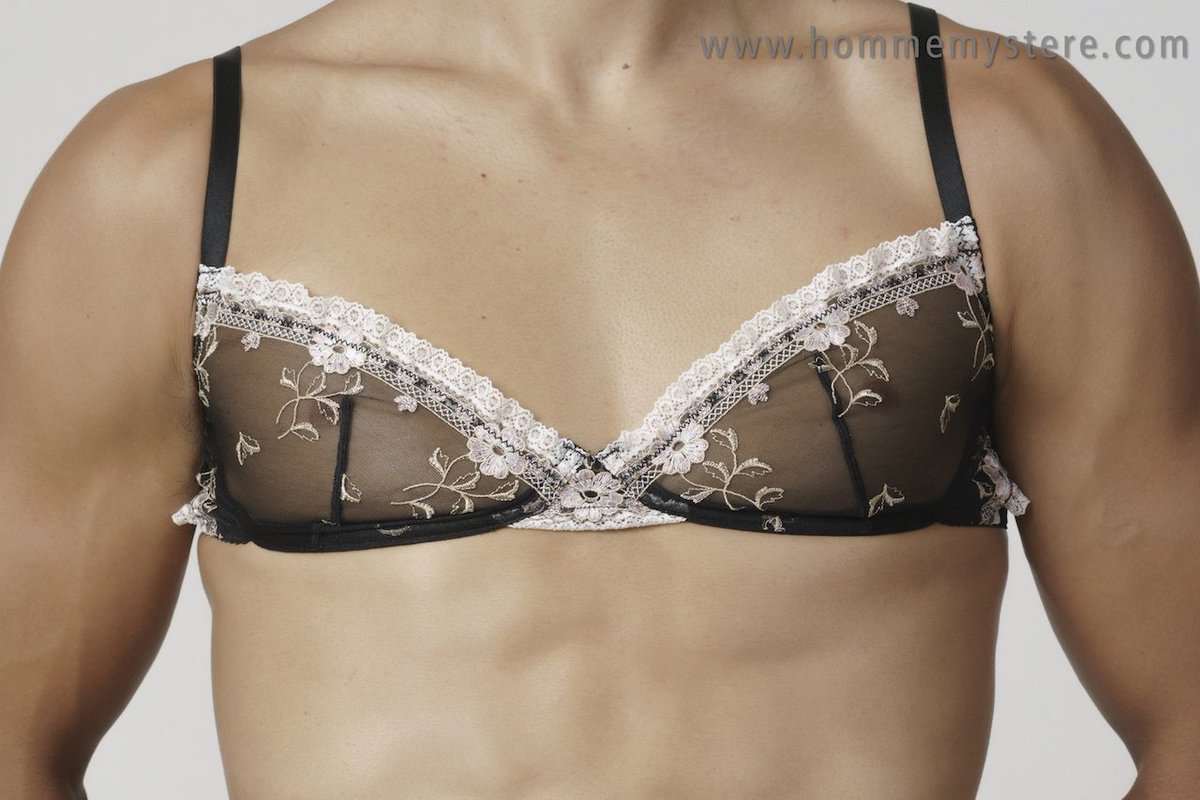 I wore their Violet Bra and Krystal Bra (pictured above) this week and my first impression was how beautiful they were.  I own a lot of bras including ones by other designers who make lingerie for men but they tend to be made out of one fabric and one solid color.  As you can see from the picture, the Krystal Bra is mesh with white lacy accents and a delicate floral pattern on the mesh itself.  A small white flower finishes this look.  The Violet Bra also features duo fabric with a subtle silver highlight on the black lace.
The Krystal Bra has two hooks and the Violet Bra has three in the back which helps the strap lay flat against your skin. The shoulder straps are also fully adjustable.  The attention to detail is exquisite and I am impressed with the quality with both of these bras.  In my experience, bras designed for men tend to be a little on the cheaper side but as I put them on I couldn't help thinking that these felt as high quality as women's bras.
The fit is good and I recommend using a measuring tape to find your correct measurement.  The band has enough stretch to be a little forgiving, though.
When I wear a bra (regardless of what gender I am presenting as) I will either forget I have it on or it feels uncomfortable.  Sometimes you have to wear the uncomfortable one depending on the outfit, you know?  I was always aware I was wearing these bras, though.  But this was not an uncomfortable feeling.  I like the small tugging around my chest, I like the reminder I am wearing one.  The straps stayed in place and moved with me.  I didn't need to adjust them throughout the day.
The tugging reminded me I was wearing a bra, but so did looking in the mirror.  I wore these bras with a t-shirt and I could clearly see that I had… something on under my clothes.  The bra straps were noticeable and I could see the imprint of the bra against my shirt.  But that is to be expected.  Yes, they lay flat against my skin but they are not invisible.  If you wear a bra, more than likely people will notice.  However, a layered look will minimize the look almost completely.
These are easily the most comfortable bras I own, however they are not going to be my go-to when I dress up.  The cups on these bras are not designed to be practical and I would not wear these bras with breast forms.  The cups are simply not large enough and there isn't a lot of stretch for them to fit.
But that is okay.  I have other bras for my forms.  As I said earlier, bras and lingerie are more practical and versatile than I originally thought.  I love that I have bras for strapless dresses, bras for white blouses, bras to match a cute pair of panties, and bras for my breast forms.  These two bras are perfect for male mode.
So far my experience with HommeMystere is nothing but positive.  They are dedicated to making lingerie for men, but to be honest, it doesn't feel like lingerie for men.  It feels like authentic lingerie.  It feels like… girl lingerie and that is the highest compliment I can pay.
Thank you to HommeMystere for providing these beautiful bras.
Love, Hannah